We are looking forward to heading down to Texas for the weekend to catch up with friends, play records at some great parties and of course eat some BBQ!
See you at the following parties we'll be spinning at: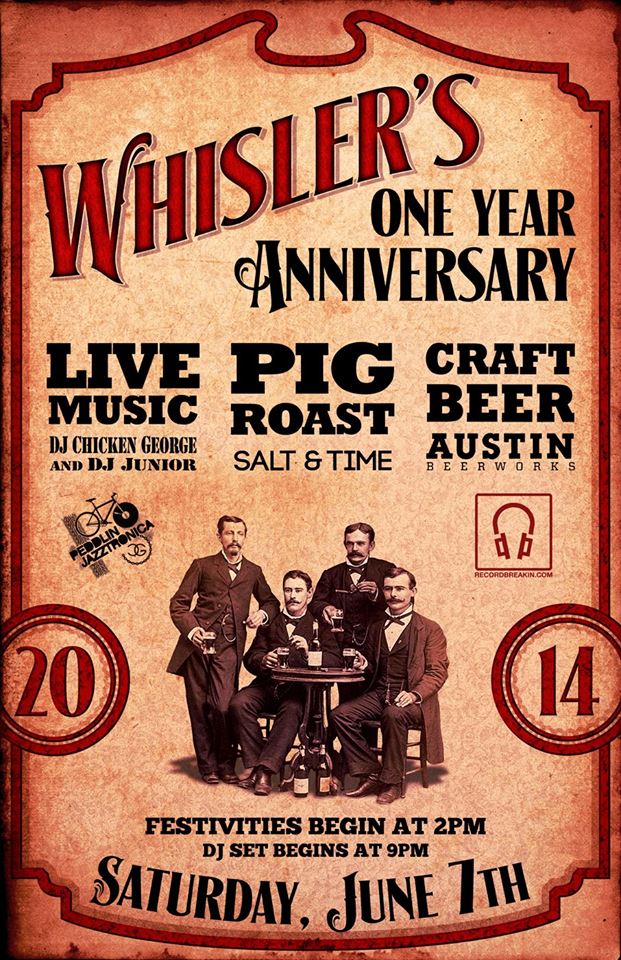 The Soul Spot at Tucker's Kozy Korner -- It's the Soul Spot back again with yet another exceptional summer night of serious FIRST FRIDAY Boogie Disco Funk Soul goodness. Returning from Philly and back in San Antonio for one night -- none other than Record Breakin' Music founder and host of Eavesdrop Radio DJ Junior. Joining the good Dr. is Soul Spot resident JJ Lopez and Cortez. We have the MV Disco Sound system in full effect, Tucker's Kozy Korner with Cullum's Attaboy handlin' the bar & grill, and plenty of open dance floor space to handle the First Friday dancers -- FREE 10PM-2AM 21+ Brought to you by: SOAH- Source Of All Happiness Tequila, San Antonio Current, and Tucker's Kozy Korner.
Friday, June 6, 2014
THE SOUL SPOT
Tucker's Kozy Korner
1338 E Houston St, San Antonio, TX 78205
FREE
10PM-2AM
21+
Ladies and Gentlemen, friends & family, the one year mark is upon us, and what an amazing ride it has been! To show our gratitude to the great city of Austin, we've put an amazing day of music, food and drink for you. Join us this Saturday for our 1st Year Anniversary Bash. We will be roasting a 150lb pig on a spit, there will be craft beer flowing from our friends at Austin Beerworks, we'll have a live band in the early afternoon, Jean-Pierre and the Zydeco Angels (6-8pm), and follow that up with an awesome set with DJ Chicken George and DJ Junior. To keep it fresh, they'll be spinning vinyl from 9-12am. Don't know if we'll every be able to top this! I guess we'll have to find out when we reach year 2. See you Saturday!
Saturday, June 7, 2014
WHISLER'S ONE YEAR ANNIVERSRY
Whisler's
1816 E. 6th St., Austin, Texas 78702
DJ set from 9PM-12AM
21+
Austin's newest weekly soul dance party hosted by Chorizo Funk, DIGG & Spence is back ALL MONTH LONG with very special guests including this MONDAY June 9th featuring DJ Junior (Record Breakin' Music / Eavesdrop Radio, Philly)!
What began as a humble Monday night Motown (and soul relatives) party in San Francisco (2009) has since exploded into a multi -city (SF, NYC, LA, HNL, DEN, OAK, CHI and AUSTIN!) Monday dance party across the states. Founder and resident DJ, Gordo Cabeza, and his partner DJ Timoteo Gigante, were inspired by the success of these events which led to our event production brand, MOM DJs & Events. With it's newest production member, The Captain Hat, we're bringing quality dance parties across the universe. This production brand places emphasis on quality of music and vibe over bottom line marketing. No matter where the party is we keep the spirits lifted and our hearts attuned! See you on the dance floor!
Monday, June 9, 2014
Vinyl
607 Trinity, Austin, Texas 78701
9PM-2AM
21+